MATTOON — The ending of "Amari and the Night Brothers" left Mattoon Middle School Reading Committee members anxious for more installments of the title character's adventures among supernatural creatures in the real world.
"'Amari and the Night Brothers' has magic, action, suspense and a big unexpected twist at the end," exclaimed member Chloe Bennett.
These qualities have led to the approximately 20-member committee selecting author B.B. Alston's 2021 young adult fantasy novel as the 21st annual Read Across Mattoon book. Community members are invited to pick up grant-funded copies at the school or the Mattoon Public Library, join the student body in reading it, and then pass on their copies to others.
The novel tells the story of a young, Black girl named Amari who goes searching for her missing older brother, Quentin, after a mysterious package arrives that is addressed to her.
"Little did she know the package led to a mysterious world with mythical creatures living amongst us," said Leah Hampton as she and other committee members gave a presentation to the Mattoon school board on Jan. 10.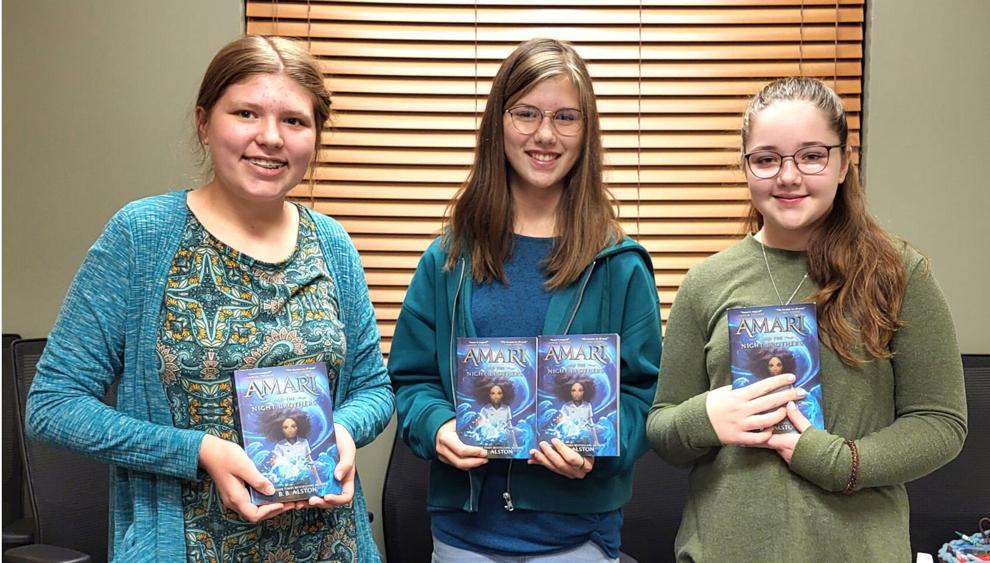 Amari follows in the footsteps of her brother, who is famous in that world, by enrolling in summer tryouts to become a junior agent with the Bureau of Supernatural Affairs. Amari continues her search while she contends with classmates who mistrust her newfound abilities and she faces a potential confrontation with an evil magician in a group called the Night Brothers.
Hannah Catt said she and her fellow members selected this novel after discussing various book options during the course of many Friday morning meetings.
"Very strongly, I had to talk to everyone. I was like, 'I want this book. It might be long, but it's a good one,'" Hannah said of this 408-page novel. 
Adviser Ingrid Minger, who is the school's media center specialist, concurred that the 2023 selection is a good read. She added, "There is a second one ('Amari and the Great Game') and the second one is just as amazing, and holy cliffhanger! We are all holding out for the third book."
Minger said the committee has begun talking about making next year's list of potential books by once again getting suggestions from the student body and looking over the national Rebecca Caudill book list. She estimated that Read Across Mattoon has distributed 20,000 books over the years for sharing with readers near and far.
"We have had them all over the world," Minger said of Mattoon travelers taking the books on trips and leaving them there. "It's very nice to hear from people who have traveled all over."
The most popular book the year you were born
The most popular book the year you were born
1920: 'The Man of the Forest' by Zane Grey
1921: 'The Brimming Cup' by Dorothy Canfield
1922: 'If Winter Comes' by A.S.M. Hutchinson
1923: 'Black Oxen' by Gertrude Atherton
1924: 'So Big' by Edna Ferber
1925: 'Soundings' by A. Hamilton Gibbs
1926: 'The Private Life of Helen of Troy' by John Erskine
1927: 'Elmer Gantry' by Sinclair Lewis
1928: 'The Bridge of San Luis Rey' by Thornton Wilder
1929: 'All Quiet on the Western Front' by Erich Maria Remarque
1930: 'Cimarron' by Edna Ferber
1931 and 1932: 'The Good Earth' by Pearl S. Buck
1933 and 1934: 'Anthony Adverse' by Hervey Allen
1935: 'Green Light' by Lloyd C. Douglas
1936 and 1937: 'Gone with the Wind' by Margaret Mitchell
1938: 'The Yearling' by Marjorie Kinnan Rawlings
1939: 'The Grapes of Wrath' by John Steinbeck
1940: 'How Green Was My Valley' by Richard Llewellyn
1941: 'The Keys of the Kingdom' by A.J. Cronin
1942: 'The Song of Bernadette' by Franz Werfel
1943: 'The Robe' by Lloyd C. Douglas
1944: 'Strange Fruit' by Lillian Smith
1945: 'Forever Amber' by Kathleen Winsor
1946: 'The King's General' by Daphne du Maurier
1947: 'The Miracle of the Bells' by Russell Janney
1948: 'The Big Fisherman' by Lloyd C. Douglas
1949: 'The Egyptian' by Mika Waltari
1950: 'The Cardinal' by Henry Morton Robinson
1951: 'From Here to Eternity' by James Jones
1952: 'The Silver Chalice' by Thomas B. Costain
1953: 'The Robe' by Lloyd C. Douglas
1954: 'Not As a Stranger' by Morton Thompson
1955: 'Marjorie Morningstar' by Herman Wouk
1956: 'Don't Go Near the Water' by William Brinkley
1957: 'By Love Possessed' by James Gould Cozzens
1958: 'Doctor Zhivago' by Boris Pasternak
1959: 'Exodus' by Leon Uris
1960: 'Advise and Consent' by Allen Drury
1961: 'The Agony and the Ecstasy' by Irving Stone
1962: 'Ship of Fools' by Katherine Anne Porter
1963: 'The Shoes of the Fisherman' by Morris West
1964: 'The Spy Who Came in from the Cold' by John le Carre
1965: 'The Source' by James A. Michener
1966: 'Valley of the Dolls' by Jacqueline Susann
1967: 'The Outsiders' by S.E. Hinton
1968: 'Airport' by Arthur Hailey
1969: 'Portnoy's Complaint' by Philip Roth
1970: 'Love Story' by Erich Segal
1971: 'Wheels' by Arthur Hailey
1972 and 1973: 'Jonathan Livingston Seagull' by Richard Bach
1974: 'Centennial' by James A. Michener
1975: 'Ragtime' by E.L. Doctorow
1976: 'Trinity' by Leon Uris
1977: 'The Silmarillion' by J.R.R. Tolkien and Christopher Tolkien
1978: 'Chesapeake' by James A. Michener
1979: 'The Matarese Circle' by Robert Ludlum
1980: 'The Covenant' by James A. Michener
1981: 'Noble House' by James Clavell
1982: 'E.T. the Extra-Terrestrial' by William Kotzwinkle
1983: 'Return of the Jedi' by James Kahn
1984: 'The Talisman' by Stephen King and Peter Straub
1985: 'The Mammoth Hunters' by Jean M. Auel
1986: 'It' by Stephen King
1987: "The Tommyknockers" by Stephen King
1988: 'The Cardinal of the Kremlin' by Tom Clancy
1989: 'Clear and Present Danger' by Tom Clancy
1990: 'The Plains of Passage' by Jean M. Auel
1991: 'Scarlett' by Alexandra Ripley
1992: 'Dolores Claiborne' by Stephen King
1993: 'The Bridges of Madison County' by Robert James Waller
1994: 'The Chamber' by John Grisham
1995: 'The Rainmaker' by John Grisham
1996: 'The Runaway Jury' by John Grisham
1997: 'The Partner' by John Grisham
1998: 'The Street Lawyer' by John Grisham
1999: 'The Testament' by John Grisham
2000: 'The Brethren' by John Grisham
2001: 'Desecration' by Jerry B. Jenkins and Tim LaHaye
2002: 'The Summons' by John Grisham
2003: 'Harry Potter and the Order of the Phoenix' by J.K. Rowling
2004: 'The Da Vinci Code' by Dan Brown
2005: 'The Broker' by John Grisham
2006: 'For One More Day' by Mitch Albom
2007: 'Harry Potter and the Deathly Hallows' by J.K. Rowling
2008: 'The Appeal' by John Grisham
2009: 'The Lost Symbol' by Dan Brown
2010: 'The Girl Who Kicked the Hornet's Nest' by Stieg Larsson
2011: 'The Litigators' by John Grisham
2012: 'Fifty Shades of Grey' by E.L. James
2013: 'Diary of a Wimpy Kid: Hard Luck' by Jeff Kinney
2014: 'The Fault in Our Stars' by John Green
2015: 'Go Set a Watchman' by Harper Lee
2016: 'The Girl on the Train' by Paula Hawkins
2017: 'Diary of a Diary of a Wimpy Kid: The Getaway' by Jeff Kinney
2018: 'Becoming' by Michelle Obama
2019: 'Where the Crawdads Sing' by Delia Owens
2020: 'A Promised Land' by Barack Obama
2021: 'Dog Man #10: Mothering Heights' by Dav Pilkey
2022: 'The Light We Carry: Overcoming in Uncertain Times' by Michelle Obama
Contact Rob Stroud at (217) 238-6861. Follow him on Twitter: @TheRobStroud