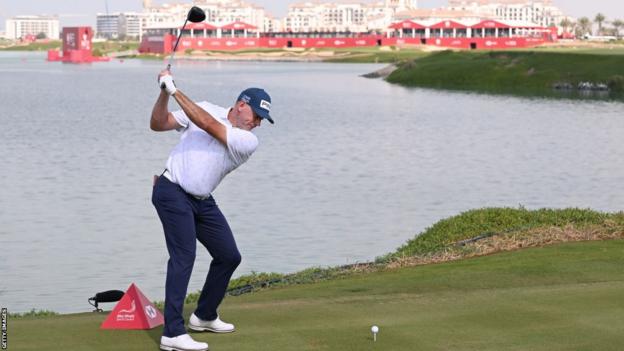 Trying to envision the future of professional golf is about as hard as reading a slippery pitch with multiple breaks of Augusta National greens at lightning speed.
DP World chiefs walk with judicious patronage; They don't want to get the ball rolling the wrong way. Decisive legal action against players from the dissident LIV golf league looms in the near future.
So sitting for an hour with European Tour CEO Keith Bailey, ahead of this week's Hero Dubai Desert Classic show, raises more questions than answers.
But we have learned that he and his PGA Tour counterpart Jay Monahan have stepped back from the thorny discussions that will determine whether LIV players will earn world ranking points.
We heard the tour staff were upset about comments made by Lee Westwood, the LIV recruiter in Abu Dhabi last week where he questioned the current strength of the DP World circuit.
It was also made clear that the judging session in London, which will take place from 6-10 February, would require a great deal of expense and attention from the hierarchy of the tour.
"I think this is an important moment for our tour and to protect our tour and our members at all levels," Bailey told reporters gathered at the Emirates Golf Club.
The tour engaged the services of three outside law firms to help them fight 13 LIV players who were appealing against penalties imposed to challenge waivers being denied to allow them to play LIV events.
First Ian Poulter, Adrian Otagui and Justin Harding appealed the £100,000 fine and bans from the Scottish Open. Penalties were suspended and they were able to play throughout the process.
The number of appellants then rose to 16, but Sergio Garcia, Charles Schwartzl and Branden Grace have now withdrawn from the case, which will be heard behind closed doors by Sports Resolutions UK.
The panel, made up of two military commission chairmen and former Supreme Court justice Philip Sycamore, will decide the outcome. But that will not be known until several weeks after the hearing.
"It's a lot of money and it's time and resources, but it is what it is," said Bailey, who refused to be drawn into the fallout from his tour if they lost the case.
"We had discussions at a very high level but at the same time it was not our main focus," he said. "When you defend the claims against 13 players and bring witness statements and do all that, you focus on that."
Bailey admitted that under legal advice, he and fellow senior Keith Waters, along with PGA Tour commissioner Monahan, had removed themselves from global discussions about whether the Saudi Arabia-funded LIV Tour should be recognized.
"I have not seen or looked at the LIV app nor have I given my opinions on the app," he said. It is in the hands of the Technical Committee.
"Jay Monahan, Keith Waters and I have left ourselves on the separate panel. The four majors will determine the LIV application.
"We're not involved in it, we don't discuss it, and it has no bearing on what happens with OWGR as far as LIV goes."
"We did it because our legal advisors suggested it," Bailey added. LIV president Greg Norman called for the scheduled rounds to be stripped of any influence on the decision.
In the build-up to last week's Abu Dhabi HSBC Championship – which was brilliantly won by French Ryder Cup favorite Victor Perez – Westwood commented on the apparent weakness on the fields in this big week in the Middle East.
"Two $9 million events, back-to-back, an hour's drive away, in near-perfect conditions," said the veteran Englishman. "If you're not going to get strong fields, like half a dozen of the world's top 20, you're never going to get them, right?"
Bailey said the comments hurt his employees. "Last night we had a function function and it was amazing how many people came up to me and said they were disappointed with the comments," he said.
"And it was unfair to the staff and I found that really interesting. I didn't quite realize how upset the staff was."
"I think the comments that were made were outside the realm of facts. Commenting on the top 20 in terms of where the tour took place, you all know it's never been truer and it's never been stronger."
The tour boss has also raised eyebrows that he is so far unaware of any LIV player expressing any negative sentiment about the lucrative $405m (£328m) circuit over 14 tournaments this year.
"Some people have said to me over the last couple of months, 'It's amazing that none of the competitors on the new Tour said anything about their Tour,'" Bailey said.
"It's really impossible for them not to have opinions and for everything to be fine the first year. I find it ridiculous."
The tour says it is not looking to grant life bans to players it deems to be rebellious for defying waivers to play LIV events. But it is not clear what the penalties will be if the hearing goes in favor of the round.
LIV players insist they have the right to play wherever they like and that the European Tour didn't stand in their way when they wanted to play in the US. "What is the difference?" They argue.
In the meantime, they can continue to compete on the DP World Tour, and this week sponsors welcomed Dubai to play at Almoayyed. In the past week the likes of Westwood, Poulter and Henrik Stenson have been overlooked.
This inconsistency is the way things are at the moment. Will they be eligible for Ryder Cup selection? who do you know But the tour insists that whatever of Luke Donald's six wildcard choices will only belong to the captain.
By then at least there should be more clarity.
In fact, golf fans should hope that comes sooner rather than later, so we can focus on the action itself — like those diabolically hard putts that will define the Masters in April.