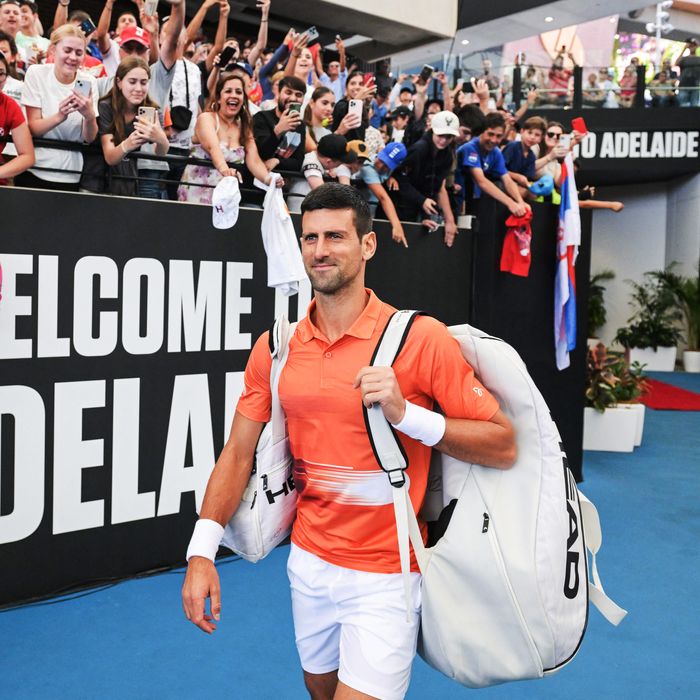 Djokovic in Adelaide
Photo: Brenton Edwards/AFP via Getty Images
The world was a different place one year ago. Russia was still massing its forces on the border with Ukraine. Elon Musk was several months away from making Twitter worse. Novak Djokovic was fan enemy number one in Australia after a battle over his eligibility to play in the Australian Open in Melbourne turned into a saga that ended with his deportation.
But ahead of the 2023 tournament, which starts on Monday (Sunday night in the US), the country that recently vilified him embraced the man at the center of that long-running international incident. At the Adelaide Cup, a warm-up tournament held earlier this month, Djokovic played in front of a supportive and gracious crowd, showing no sign that a hamstring injury was bothering him. Djokovic won the tournament by defeating American Sebastian Korda in a seesaw final that once again demonstrated Djokovic's unparalleled mental strength.
On Friday, Djokovic played an exhibition match in Melbourne against Australian Nick Kyrgios. It was a love affair in Washington Mail:
Spectators showered Djokovic with cheers, delighted in the easy banter between friends and rivals, and even swapped toddlers and begged for selfies with the players during breaks in the entertainment. In terms of mending ties, it was the complete flirtation that settled any question of how Djokovic would be greeted when he steps onto the same court to begin his bid for a 10th Australian Open in earnest with a first-round match against Roberto Karballes. Paina Spain.
"In 2008 it was the first time I won a major tournament, it was here, and 15 years later I'm here again and I'm competing at the high level," said Djokovic. "I must be very grateful for the opportunity to be here, so thank you guys for welcoming me in such a good way tonight."
All of this is a stark contrast to last January, when Australian news anchors were muttering about how awful he was over hot mics. Brief refresher: Djokovic, a 21-time major winner, holds a whole gamut of medically questionable beliefs and has not been vaccinated against COVID-19. (He held a nasty championship/superspreader event during the early months of COVID.) Australia was, a year ago, still enforcing the strict virus rules it had put in place at the start of the pandemic. Djokovic said he was granted a medical exemption from Tennis Australia, which runs the Open, but when he arrived in the country on Jan. 4, 2022 — amid widespread outrage that he had not been subjected to the draconian restrictions suffered by others — he was arrested. by the Border Police Force and took him to a detention hotel. A judge ordered his provisional release on procedural grounds and found that the state had treated him unfairly. But with public anger against Djokovic reaching a higher boil, Australian minister Alex Hook unilaterally revoked his visa a few days later. After losing on appeal, Djokovic was deported on January 16, nearly two weeks after he began his adventure. Rafael Nadal ended up winning the Australian Open.
So why was the friendly welcome this time to a player not particularly liked by the tennis crowd?
For one thing, Djokovic has generally taken the high road throughout and after last year's episode. Although he said his experiences of the past year would stay with him, he never lashed out or expressed any real bitterness about the issue as it was unfolding. (This calm also characterizes Djokovic's reactions to crowd negativity over the years.) With most of the country understandably angry at Djokovic, whining at all may have permanently damaged his standing in Australia.
The January 2022 saga also developed into such a jumbled mess that by the end, it was hard to tell who was at fault in the first place. Djokovic is definitely wrong. He blamed "human error" for a staff member for falsely claiming he had not traveled outside Serbia for two weeks before arriving in Australia. It turned out that he had been in contact with people in Serbia even after he received a positive COVID test (Djokovic called this an "error in judgment"; some have speculated that the test was fake). But the Australians were hardly blameless. At best, there was a serious misunderstanding between Tennis Australia and the government over Djokovic's eligibility in the first place, and the Australian authorities seemed to set the rules as they were, according to the public's bad mood.
Even people who think Djokovic brought all this upon himself, at this point, might begrudgingly respect that he stuck to his gun, no matter how stupid those guns are. His irrational stance on vaccination came at a huge personal cost. Besides the Australian Open, last year Djokovic missed the US Open and other important tournaments due to restrictions on unvaccinated travel to the US and it appears he will again miss several US tournaments this year, as the US government still requires vaccinations to enter the country. (For reasons that don't make sense).
Then there is Australia's current stance on COVID. The country has endured about two years of grueling regulations, and its tennis-loving citizens would probably prefer to focus on relative normality for the time being and not dwell on all that annoying.
Because Djokovic has missed so much play over the past year, the world's best player is only seeded fifth. But he is a strong favorite to win his stunning 10th title, especially since No. 1 seed Rafael Nadal is struggling to compete at his usual level. If Djokovic wins again, it looks like he could be a crowd favorite, which is rare over his long career. (It helps that Roger Federer is no longer in the picture.)
And if Djokovic does something to upset the country next week, he will likely still be spared plenty of ridicule; The Championship has instituted a policy against booing which seems directed towards protecting him. Based on the past week, it seems unlikely that they will ever need it.