Unseen photographs taken by Paul McCartney of the early 1960s when the Beatles catapulted to international stardom will be on display at the renovated National Portrait Gallery this summer.
McCartney thought the photographs, taken between December 1963 and February 1964, were lost, but he has recently rediscovered them.
NPG Director Nicholas Cullinan said the exhibition, Paul McCartney Photography 1963-64: Eyes of the Storm, "will provide a uniquely personal perspective on what it was like to be a Beatle at the beginning of Beatlemania".
Photographs taken in this period capture the exact moment John Lennon, Paul McCartney, George Harrison and Ringo Starr transformed from Britain's most popular band into an international cultural phenomenon, from concerts in Liverpool and London to performing on The Ed Sullivan Show in New York to an audience TV show reached 73 million people.
"At a time when so many camera lenses were on the band, these images will share a new view of their experiences, all through the eyes of Sir Paul McCartney."

The Beatle star approached NPG in 2020, Cullinan said. "He said he found these pictures that he remembers taking but thought they were lost. We sat down with him and started going through them. [It was] It's great to see these images – unseen – of such a famous and well-documented cultural moment.
"It was taken by someone who was really, as the show's title hints at, in the eye of the storm looking out at what was going on."
McCartney plans to publish a book of photographs to coincide with his 81st birthday in June. The 275 images in the collection were taken with a 35 mm camera in New York, Washington, London, Liverpool, Miami and Paris.
The McCartney family includes three famous photographers. His first wife, Linda McCartney, was the first woman to grace a Rolling Stone cover. The couple's daughter, Mary McCartney, is a noted photographer and filmmaker, and his brother, Mike, has published books of Beatles portraits.
Last year, McCartney published The Lyrics, in which he traces his life story through the lyrics of his songs. The book became a bestseller.
The NPG, a Grade I listed building in central London that houses the world's largest collection of paintings, has been closed for a major renovation since March 2020. While closed, it has loaned works to galleries and museums around the world.
The gallery will reopen to the public on June 22 with an exhibition that explores the life and career of Yevonde, the 20th-century photographer who pioneered the use of color photography in the 1930s. It will include the portraits and still-works produced by the artist throughout her 60-year career, and will reflect the increasing independence of women at the time, with an emphasis on the photographic freedom afforded to Yevonde.
In the fall, NPG will bring back an exhibition, David Hockney: Drawing from Life, which opened just 20 days before the gallery closed due to Covid in March 2020. The exhibition explores Hockney's work over the past six decades through his portraits of five babysitters – his mother, Laura Hockney, Celia Birtwell, Gregory Evans, Maurice Payne, and the artist himself—in a range of media and methods, from pencil, pen, ink, and crayons to collages and iPads.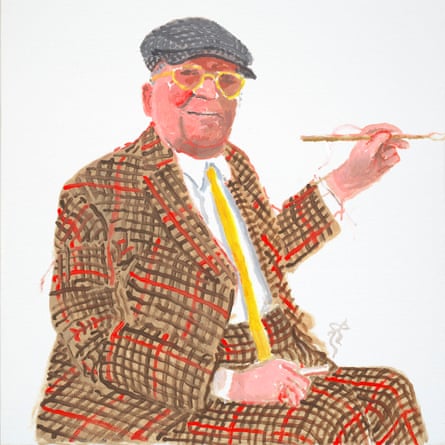 The 2023 exhibition will also show for the first time new photographs by friends and visitors of the artist's Normandy studio between 2020 and 2022.
In February 2024, the gallery will hold an exhibition of contemporary African diaspora artists working in the UK and the US, curated by former Director of the Institute of Contemporary Art Ekku Eshun.
It's Always Time: Artists Reimagining the Black Form will include works by Horvin Anderson, Michael Armitage, Jordan Castile, Njidika Akonelli Crosby, Noah Davis, Lebina Hamid, Claudette Johnson, Titus Kavar, Kerry James Marshall, Toyin Ojeh Odutola, Nathaniel Marie Quinn, Amy Sherald and Henry Taylor and Barbara Walker.
In addition to examining how artists depict the black form, it will address the absence of a black presence in Western art history.
The NPG has unveiled a new logo aimed to "better reflect its role as a gallery for and for the people, telling the story of Britain's past, present and future through selfies", and redesigned its website ahead of reopening.
"Our show program is our first year," Cullinan said [after reopening] Presenting some of the world's most famous artists in a new light, containing extraordinary and never-before-seen images, revealing the work of outstanding innovators, illustrating important cultural terrain and showcasing the greatest contemporary paintings."
Paul McCartney Portraits 1963-1964: Eyes of the Storm exhibition from June 28 to October 1, 2023.
Yevonde: Life and Color will run from June 22 to October 15, 2023.
David Hockney: Drawing from Life will run from November 2, 2023 to January 21, 2024.
Now is always the time: artists will recreate the black motif from February 22 to May 19, 2024.