If Ringo Starr and The Beatles were the defining band of the '60s, The Rolling Stones weren't far behind. According to Paul McCartney, the rivalry between the two bands was more rumor than fact, which seems to be true. If the Stones and the Beatles didn't like each other, would Ringo and his drumming counterpart Charlie Watts hang out together? And would Ringo feel comfortable describing Watts' drumming in an 11-word quote? We don't think so.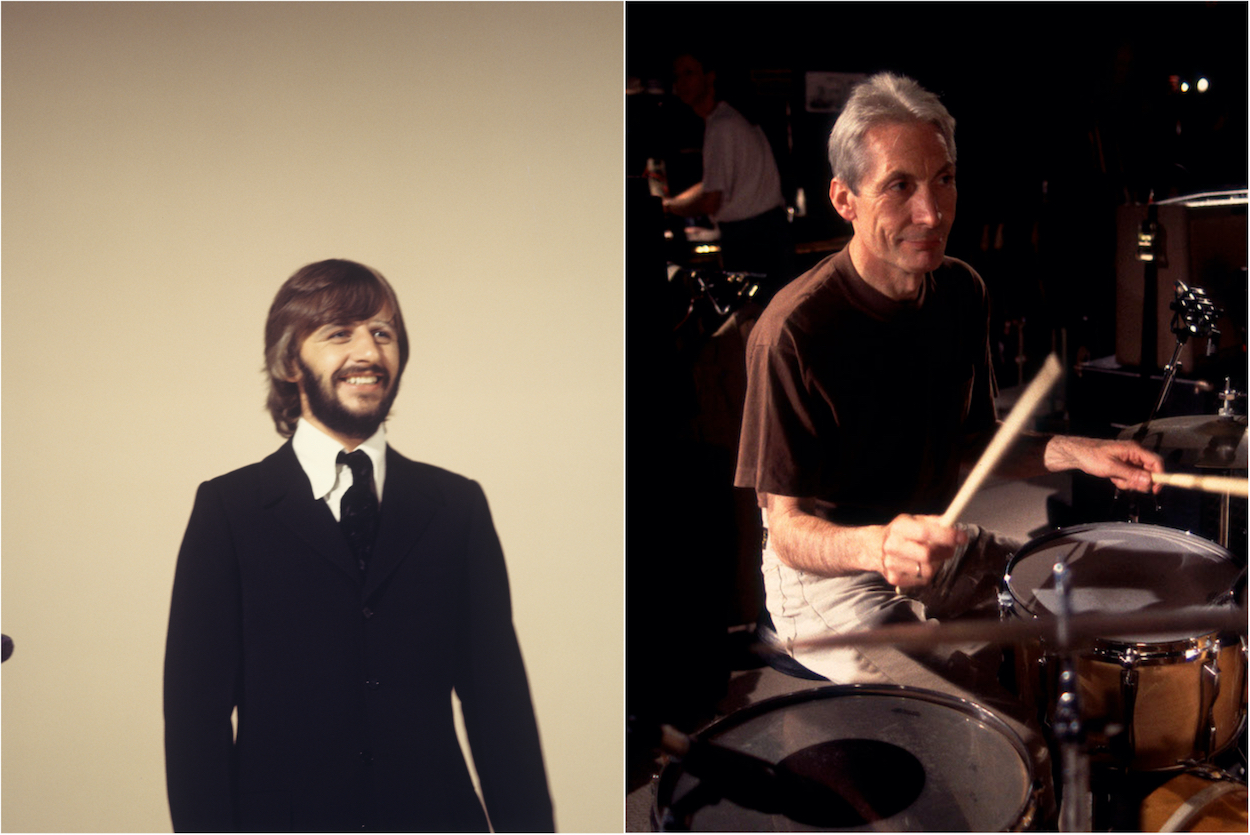 Ringo Starr and Charlie Watts were friendly with each other
Ringo Starr and The Beatles wrote beautiful pop tunes when they started out. The Rolling Stones started life as a blues cover band, and that style has never left their DNA. Any rivalry between star groups was fan-made. The members of each troupe were respectful and friendly to each other. Stones frontman Mick Jagger was in awe of the Fab Four the first time he met them.
Watts and Ringo developed a close enough friendship that the Beatles' timekeeper invited his Stones counterpart to a party on at least one occasion. Lucky attendees saw Watts, Ringo and John Bonham of Led Zeppelin sit and play with Ringo's kit.
Born Richard Starkey paid tribute to Watts when the Stones' drummer died. "God bless Charlie Watts. We will miss you man of peace and love for the family" Twitter in time. Years before that sad moment, Ringo hilariously described Watts' style in a few very precise words.
Ringo described Watts' percussion style in just 11 words
Ringo and Watts had something in common besides drumming for two of the most popular bands of all time. In an era when some drummers turned out to be star attractions (Bonham, Keith Moon, Mitch Mitchell, and Ginger Baker come to mind), Ringo and Watts played the simple grooves that anchored the musicians ahead of them.
Both men have also been named two of the greatest drummers of all time by Rolling Stone. As Alan Clayson writes Ringo Starr: Straight man or Joker?Ringo needed only 11 words to describe Watts' approach to the kit with joy and precision:
"[He's] The only drummer who leaves more than me."
Ringo's commentary on Watts is also a self-deprecating analysis of his own drumming. At the same time, he secretly praised their timekeeping skills.
Ringo never got the recognition he deserved while with the Beatles. Meanwhile, Watts' tight timekeeping was often overshadowed by Jagger's confident presence, Keith Richards' inventive guitar riffs, and the general debauchery for which the Stones are known. However, both drummers kept to the exact time and only played what their bands needed and nothing more.
Watts may have "knocked out" more than Ringo, but both performers manage to keep time with simple drumming that's a perfect fit for each band.
The Beatles drummer is bored with other drummers
Watts and Bonham sat in on Ringo's set during a gig, so we know the Beatles' drummer maintained friendships with them. Even when Ringo moved to Los Angeles in the mid-1970s, he wasn't safe from Bonham's pranks.
The Who drummer Keith Moon was angled for his place in the Beatles, but Ringo still developed an intimate relationship with him. The two were so close that Moon would often sit for Ringo.
Ringo Starr said that Charlie Watts was the only drummer who played less than him. Ringo hilariously and accurately described their drumming style in just 11 words.
For more information on the world of entertainment and exclusive interviews, subscribe to Showbiz cheat sheet channel on YouTube.