John Gettings

The Reedsburg-based author who tells her life and family stories through her work released her third book in December and launched the book Saturday in Wisconsin Dells.
Rose Bingham, who lives with her husband of 64 years, Michael, in Reedsburg, has lived in the Dells for 22 years, and grew up in Maston. I released Life Through My Eyes last month and gave it to family members and other Dales residents at the Kilburn Public Library. She signed copies of the book, as well as her two previous copies, "Say It Ain't So… Then Make Lemonade!" and "Buy the Little Ones a Dolly", her memoir and first published book.
The new book is filled with mostly out-of-tune poems such as haikos, sonnets, and poems devoted to a range of topics and life experiences related to them. Issues covered in Bingham's latest work range from the COVID-19 pandemic to nature, war and upheaval, family, childhood memories and loss of life. She read some poems from Life Through My Eyes to a launch audience full of her family members and others.
"Say it's not…then make lemonade!" It was freely available at launch. Her memoir, published in November 2017, is titled Say Not So… Then Make Lemonade! It was released in July of 2019. Bingham's latest book, "Buy a Little Dolly," was on sale. All of Bingham's books are available at the Kilburn Public Library.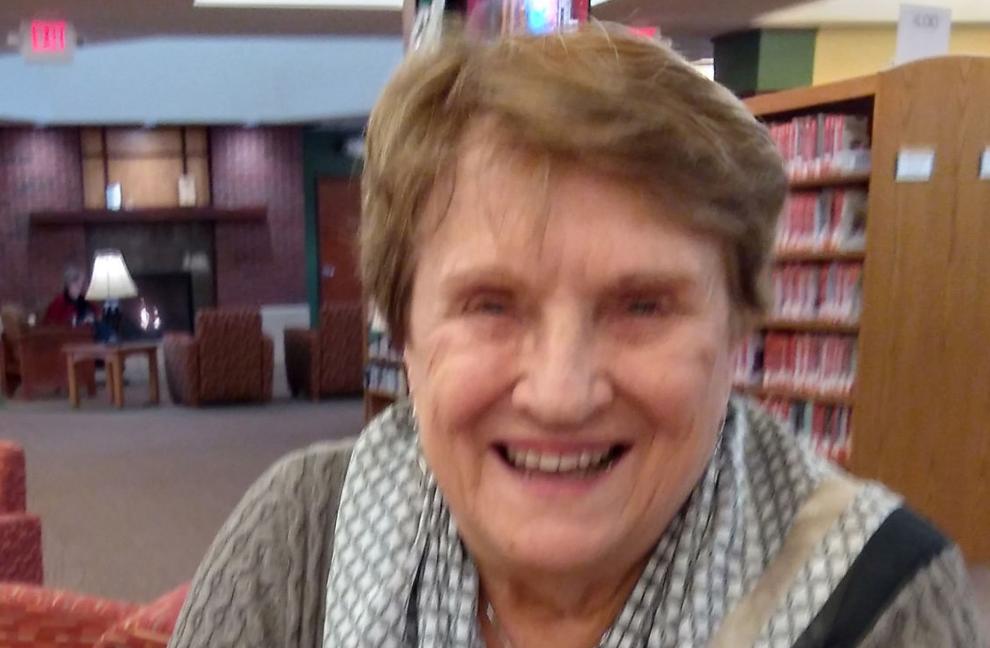 Few authors publish their first book when they are 80 years old, but Rose Bingham of Wisconsin…
"Rose has long taught writing and has mastered it and is a very dynamic and interesting person," said Kira Henschel, Bingham Publisher and owner of HenschelHAUS Publishing in Milwaukee. "Each one is different, but I think it really shows her life and also shows life in the broader sense."
A significant life event covered in "Buy the Little Ones a Dolly" is the disappearance of her mother in 1952 when she was 15 (she is now 85). She and her sister Mary (Simones) and their younger sister found out about their mother's fate in 2011, and the memoir was written in 2012.
"Our younger sister was three when she left, and for her, the closure was huge because she didn't remember her," said Simonis, who added that their younger sister had discovered the information.
Along with Life Through My Eyes, Bingham also presented a short picture book dedicated to her and Michael's daughter, Mary, who died in a car accident on February 3, 2018, nine weeks after another of their daughter, Michelle, died due to a stroke on November 28, 2017. The author discussed the two deaths emotionally during her release speech.
According to Bingham, Mary was traveling on business at the Polynesia Resort in Wisconsin Dells when she merged onto icy Route 90/94 heading west when a car in the lane on the left side of her car crashed.
remembers Bingham, who said she and Michael saw Mary the night before the plane crash after she got out early from her shift at a shelter.
"Say it's not…then make lemonade!" Dedicated to the memory of Marie and Michelle. The poem opens with the ode "Say It Ain't So", which gives strong flashbacks of discovering the plane crash from a phone call from the coroner.
Michael Bingham attributed Rose's Catholic faith with her ability to cope with the death of their two daughters so close to each other, as well as helping him cope with it. Michael, an avid hunter, keeps Rose's business cards in his wallet and hands them out, especially when he goes hunting.
She wrote a picture book, Let Me Tell You About Your Grandmother Mary Frances Chemming, for her three grandchildren, whom Bingham's daughter had never met.
"I wrote this book for them so that they would know something about their grandmother," Bingham said.
Prior to her writing career, Bingham had been a nursing 45-year-old in Madison and was the director of nursing at Sauk Prairie Hospital for 13 years before retiring in 2001. Finding out about her mother's fate was one of her inspirations. Start writing.
Michael spent 31 years as a firefighter with the Madison Fire Department before retiring in 1990.
"She's even-tempered, and she knows what she's writing about," said Michael Bingham. "She does everything with kindness. There is no hostility in her writing at all."
Although he now lives in Reedsburg, Bingham makes regular trips to the Dells as a member of the area book club.
The Binghams have six children (four surviving), as well as 19 grandchildren and 18 great-grandchildren. Three children, two grandchildren, and two great-grandchildren were among the family members at the launch party.