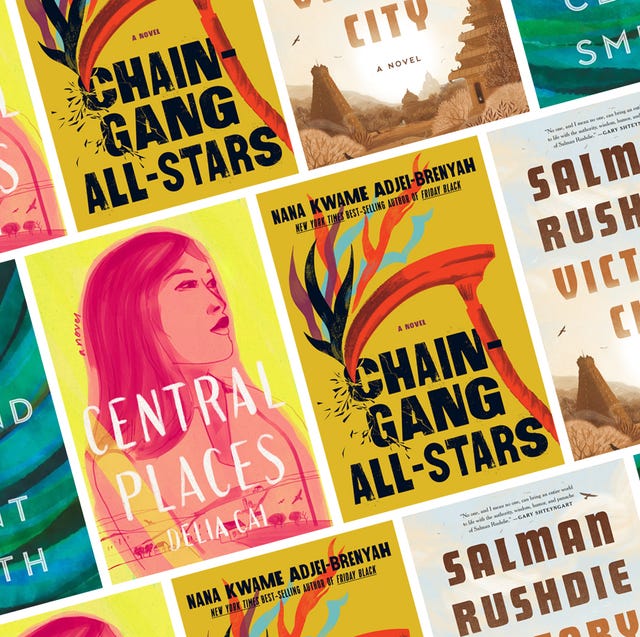 Courtesy / Leah Romero
The new year has already brought with it a slew of impressive and headline-grabbing books (see: Prince Harry's explosive memoirs additionaland the creator of Kashana Kohli survivors), but another 2023 library promises to be just as captivating. Apologies in advance for the mile-high TBR List; It's about to get a lot longer.
Ahead, you'll find 65 hand-picked titles, many of which have already had a chance to flip through and rate. These recently published and soon-to-be-released books come from a wide range of categories, including fantasy novels, historical fiction, celebrity memoirs, essay collections, romance, and literary fiction. (One thing you won't find here are books and series for young adults, which we reserve for other, more specific lists.)
Narrowing down the most anticipated titles from a list of thousands is never a daunting task, so to make up for any gems we missed, you can check back on this page as we update it throughout the year with the best of it. Best. Better prepare your pre-orders and happy reading.
Announcement – read on below
soft skull
survivors By Kashana Kohli
Riverhead Books
Half of the Known Life: The Search for Heaven by Pico Iyer
random house
additional by Prince Harry
Harper
vintage contemporaries by Dan Koise
William Morrow and Company
Really good, actually by Monica Hessey
Henry Holt and Company
End of drum time By Hanna Pylväinen
Ballantine Books
Central places by Delia Kaye
Riverhead Books
What Napoleon could not do by DK Nnuro
Catapult
Savages by DizzTate
random house
Victory City by Salman Rushdie
Hogarth Press
Our share of the night By Mariana Enriquez and translated by Megan McDowell
William Morrow and Company
Vinco By Sherry Demaline
WW Norton and Company
Culture: A Story of Us, from Cave Art to K-Pop by Martin Buechner
Viking
I have some questions for you by Rebecca Mackay
Harper
The Oscar War: Hollywood's History of Gold, Sweat, and Tears by Michael Shulman
soft skull
users by Colin Wynette
Bloomsbury Publishing
A day of fallen night by Samantha Shannon
Zando
Monstrillo By Gerardo Samano Córdova
Simon & Schuster
Confidence by Raphael Fromkin
random house
Save time: discover life outside the clock by Jenny Odell
Farrar, Strauss and Giroux
Birnam Wood by Eleanor Catton
Pamela Dorman Books
Pineapple Street by Jenny Jackson
Grand Central Publishing
What happened to ruthie ramirez By Claire Jimenez
William Morrow and Company
Now you see us by Balli Kaur Jaswal
Viking
Take what you need by Edra Novi
Click on the request
Hello Beautiful by Ann Napolitano
Crown Publishing Group
Poverty of America by Matthew Desmond
Astra House
Yes No by Esther Yee
Little, Brown and Company
above the ground by Clint Smith
Catapult
The Human Origins of Beatrice Porter and Other Essential Ghosts By Soraya Palmer
Scribner's Book Company
hang moon by Janet Walls
Eco Press
Live Cure: A Memoir by Nicole Chung
random house
romantic comedy by Curtis Sittenfeld
Mariner Books
homecoming by Kate Morton
Pantheon Books
All-Star Gang Series By Nana Kwame Adje Preneh
J.B. Putnam Sons
the one by Julia Argy
Doubleday Books
The Bet: A Tale of Shipwreck, Mutiny, and Murder by David Gran
Berkeley Books
Happy place by Emily Henry
Harper
homebodies By Tempe Denton-Hurst
the interview
you are here By Karen Lynn Greenberg
Viking
Oh Mom!: A Memoir in Nine Adventures by Connie Wang
random house
guest by Emma Klein
classic
Quietly Hostile: Essays by Samantha Irby
William Morrow and Company
yellow face by RF Kuang
Ballantine Books
A Renaissance of Our Own: A Memoir and Manifesto on Reimagining By Rachel E. Cargill
One world
dances by Nicole Covey
Riverhead Books
The departed Americans by Brandon Taylor
Flatiron Books
Pageboy: A Memoir by Elliott Page
Scribner Books / Marysue Rucci
Myth makers by Kezia Ware
Harper One
Wannabe: The accounts with pop culture that shape me by Aisha Harris
Hanover Square Press
Adult Drama: And Other Essays by Natalie Beach
Viking
Watch us dance Leila Slimani, translated by Sam Taylor
Written by Gillian Flynn
center By Ayesha Manazil Siddiqui
Farrar, Strauss and Giroux
vegetarian By Andrew Lipstein
Doubleday Books
Scammer statement By Colson Whitehead
Scribner's Book Company
The Spectators: Stories by Ann Beatty
Hanover Square Press
bellies by Nicola Dinan
Twisted media reads
Mobility By Lydia Kiesling
Henry Holt and Company
peach seeds By Anita Gail Jones
Eco Press
family traditions by Elizabeth Acevedo
Ballantine Books
Congratulations, The Best Is Over!: Essays by R. Eric Thomas
Exhibition books
Under the effect of by Noel Crooks
Little, Brown and Company
rote learning by Emma Donoghue
The land of milk and honey By C Pam Chang
If you fell in love How many of these hills of goldyou, like me, are eagerly awaiting C Pam Zhang's next book, The land of milk and honey. We don't know much about the story yet, but Zhang described it on Twitter as "a novel about food, female appetite, class, culinary hierarchies, and the piquant sensual imperative to find one's own pleasure in a world that has grown weary." Looks delicious.
Release date: TBD 2023.
Okay, one more disclaimer: I'm biased about this one. Our beloved webmaster, Jessica Roy, is releasing her first book later this year, one that expands on an ELLE.com story she published in 2019. (You may remember the title: "Two Sisters and the Terrorist Who Came Between them.") We're still waiting for all the details. , including the name and release date, but given the level of reporting and the nuances of Roy's feature, I expect the next book to be impressive.
Release date: TBD 2023.
Announcement – read on below