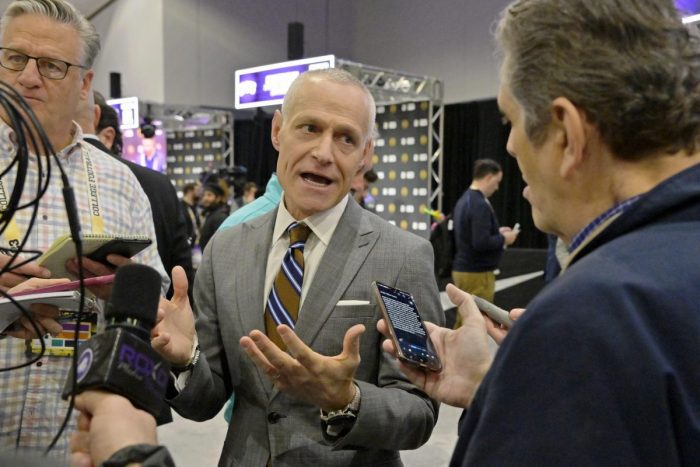 What happens in the Big 12 and beyond? I expand and explain each Sunday in Postscripts at Heartland College Sports, your home for Big 12 independent coverage.
This week, it's the schedule for Big 12 football, Big 12 women's soccer, and a self-assured Bob Huggins looking forward to the Big 12 Basketball Championship on Fox.
Where is the Big 12 schedule?
the Houston Chronicle Joseph Duarte — who covers the upcoming member of the Houston Cougars — tweeted Friday that what we all want is coming soon. Exact date and everything.
Duarte continued to tip his hat to @chcknights95 on Twitter, who has 51 followers, and tweeted that whoever got UCF Athletic Director Terry Mehajer would bite and give a date.
It all sounded silly until I discovered, well, this guy with 51 followers actually made an immigrant give a date, which I found in a thread announcing a new NIL group of jockeys.
All for a $12 donation to the Knights' NIL Fund. If I had known it was that easy, I would have donated $50 a month ago to get everything.
Soon after, Mohajer had to back off because, well, he was basically ahead of the entire conference on that one.
Then Sheehan Gyarraga of CBSSports.com covered it all up with a cold, wet blanket.
For the record, Mohajer later said he had received "new information."
Never before has the release of a football schedule caused such a stir. Big 12 Commissioner Brett Yormark told the Big 12 Championship Game that the schedule will end in mid-December. Now, it will be released "Real Soon".
We now know that the Big 12 is working with Oklahoma and Texas on a possible exit in 2024. This means that the league's goal — for every team to play each other at least once between 2023 and 2024 — won't be possible.
From my point of view, who cares if everyone can't play Oklahoma and Texas in the next two years? Wouldn't you rather get buyout money than one-shot revenue in your home ballpark? Plus, the migraine goes away.
All of this makes me feel like there was more to trying to please everyone if I left Texas and OU a year ago. And I felt that way for While right Now.
The Big 12's Women's Soccer
We cover a lot of sports here at Heartland College Sports. Unfortunately, we don't have the manpower to cover them all.
But I would be remiss if I didn't point out that the Big Fifteen selected five players in the National Football League Women's Draft earlier this week, the most the conference has ever selected.
I follow the conference on Twitter for obvious reasons (I don't want to miss the news). I can tell the conference has stepped up its game in recent months to make sure Olympic sports deserve their due.
The 0-5 Most Trusted Man in America
Bob Huggins and the West Virginia Mountaineers lost to the Oklahoma Sooners on Saturday 77-76, knocking the Mountaineers to 0-5 in league play.
I was able to watch a few games once I got to the Kansas State-TCU game. Once again, the Mountaineers had every chance of winning. The likely culprit was the free throw shooting. But it is the latest in a series of close losses for the Mountaineers.
Throw out the Kansas game—which WVU lost, 76-62—and the four Mountaineers have lost the other four Big 12 games by possessions or fewer.
Perhaps that's why Huggins strikes an optimistic note on post-game radio, as relayed by WV Sports Now's Ethan Bock.
Earlier this week, WVU parted ways with Huggins' associate director, Larry Harrison, on Thursday. Former and current players were surprised by the move on Twitter because Harrison has been one of Huggins' right-hand men for so long.
Huggins had more to say beyond the statement the university gave Thursday, which came on his Thursday radio show.
Actually that was it. This was what was left of it.
Harrison hasn't said anything publicly, but he will at some point.
Meanwhile, the Mountaineers reacted Saturday with another fiasco. Haggis has confidence. I feel their time is coming. Just intuitively speaking. But Huggins' hunch certainly speaks.
Looking forward to Fox
Yes, I'm looking forward to the new Big 12 TV contract. Hopefully, with Fox as basketball's new partner, games like Saturday's Top 25 game between Kansas and Iowa State won't be moved to a streaming platform (by the way, here are my thoughts on the game, which was one of the best today).
Honestly, I don't know what to do about the Big 12 Now. I have a subscription because I need it to work (and honestly, if you don't, I'd point out that it's super cheap and you get everything ESPN has to offer). The production and advertising value is basically the same as what you get on the mothership networks. I'm not sure the Big 12 network makes sense in this age.
I think I want more flexible scheduling now. Fans don't have to search for the top 25 matches. Maybe two years down the road, this game will end on Fox.
Instead, ESPN aired a game between Alabama and LSU in that slot and the Crimson Tide won, 106-66. I mean, just flip the games, right?
without power…
During the Oklahoma State-Baylor game on Saturday, the power went out. One of those weird things that rarely happen. The game was eventually restarted and completed, but ESPN had to get a little creative by playing it one-on-one, courtesy of Matt Mosley, who hosts a radio show for ESPN Central Texas, among other things.
Speaking as someone who has already done this before, it's not easy. Kudos to Mark Neely, Chris Spatola, and the crew at ESPN for keeping the show going…on iPhone.
You can find Matthew Postins on Twitter @tweet