Chapel Hill, NC — North Carolina came up with a straight winning counter punch Tuesday night. The Tar Heels denied Boston College 72-64 in ACC basketball at the Smith Center, turning up productivity and stopping an Eagles late push with the help of Caleb Love's clutch response.
Boston College used a 12-2 round to cut the University of North Carolina's lead to 56-55, when Love shook off the struggles that plagued him, and nailed a three-pointer running back for some breathing room. Then, as the Tar Heels ran in transition, Love threw a pass to Armando Pacotte that deflected before BC. Love caught his mid-air pass deflection and scored from the cup, putting the Tar Heels ahead 61-55 and on their way.
UNC (13-6 overall, 5-3 ACC) has improved to 9-0 at home this season and 15-1 against Boston College since the start of the 2010-11 season.
Armando Pacote lifted the heavy stuff again with another powerful performance that belied his sprained left ankle that he suffered seven nights ago in Virginia. Bacot delivered 20 points and 16 rebounds for the Tar Heels, and produced his career-high double-double to tie Billy Cunningham's school record.
RJ Davis drained three of his four pointers and made 15 of his 18 points during the second half. Davis sank a pair of free throws with 4:05 remaining to give UNC a 63-55 lead, and BC didn't get close to four points from there.
Love pumped in nine points over the final 5:21 and finished with 16 points. He hit just 3-for-11 from the field, including 1-for-6 from 3-point range, before leading through the final five minutes of the game.
Quentin Post's 17 points, five rebounds and Jaden Zachary's 14 lead over Boston College (8-11, 2-6). I took out the 7-foot, 250-pound job with 4:05 left. He battered the 6-foot-11, 235-pound Bacot down and became frustrated at times, cracking in Baco's ear during one moment in the second half.
Shooting continues in cool surroundings at Boston College here at the Smith Center. The Eagles went 0-for-6 from beyond the arc, marking the first time a UNC opponent had failed to hit a 3-pointer since November 27, 1990, a stretch of 1,149 consecutive games. BC shot 1-for-16 from 3-point range in last season's loss to the Tar Heels at Chapel Hill.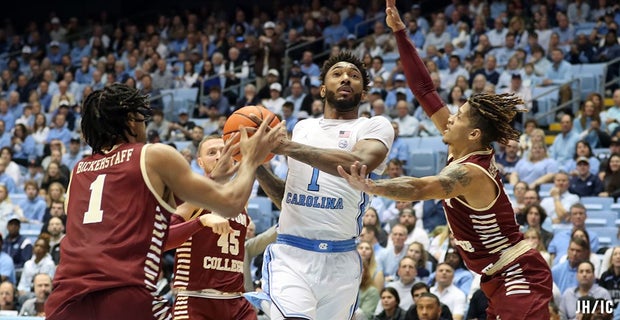 Welcome back, Nance House
Pete Nance returned to action Tuesday night after missing four games with a strained back. Taking his place as the starter alongside Bacot in the UNC frontcourt, he quickly hit two 3-pointers within the first four minutes of the game.
After Bacot fed into the post and moved to the corner for a shot, Nance's first launch caught the back rim, bounced into the backboard, and then down through the hoop. It had Nance skipping a bit as he dropped back to the other end to play defense, almost like a golfer celebrating after persuading in a long putt. Nance ran a transition and watched it sink his second 3, with a nice open field look from Davis.
Nance and Bacot combined to score 10 of UNC's first 12 points. When he wasn't on the field, Nance wore a black back brace on the Tar Heels bench for extra support. This device had red lights shining behind it.
Galen Washington has an ankle problem
The progress of new UNC striker Galen Washington was halted by an ankle problem on Tuesday night. He wore a hoodie and warm pants before the start of each run, but did not participate because the Tar Heels' other shoes were loose. Early on, Washington didn't get out of the tunnel until there were about 90 seconds left on the pregame clock.
A week ago, Washington became the surprise hit of Virginia with a season-best 13 points and six rebounds in Packout's absence, after the big man was knocked out with a sprained left ankle. Washington added six points and three rebounds off the bench in UNC's defeat of Louisville over the weekend.
Next on the schedule
North Carolina stays home to meet rival North Carolina State on Saturday, which finishes four home dates across six games. The Wolfpack (15-4, 5-3) won Georgia Tech on Tuesday night, notching its seventh victory in its last eight games.
UNC entered Tuesday night after playing the 10th toughest schedule nationally, according to college basketball database Ken Pomeroy. This rating is sure to drop again. The Tar Heels played KenPom's fifth-toughest schedule nationally—behind only Alabama, Creighton, Gonzaga, and Kansas—before their win on the road Saturday in Louisville. Boston College and Louisville are Kienbaum's lowest ranked teams in the ACC.