Editors' note: Normally, a story this deep with content of this quality would only be available to loyal Premium backers. However, 100 Foot Wave organizer Bill Sharp has given us free reign over the content from this trip, as long as it's available for everyone to view. enjoy.
On Friday, January 13, the California coast was basking in an uncharacteristically long pulse. For just one day, a light Southern California wind combined with power that built from 6 feet in 24 seconds to about 17 feet in 19 seconds.
It was impossible not to score if you were south of Point Conception.
In these days where every spot on the map is packed with power and rail, every surfer seems to have a bunch of potentially shooting spots on their mind. Point breaks, secret planks, choppy berms, idle bays—they were all shooting Friday.
Sure, it was crowded—it always is—but this was one of those swells where everyone walked down the trail at dusk with a smile, returning phones full of copious messages and shaky snaps.
However, there was one spot that wasn't on anyone's radar. Well, nobody except the six surfers and a 40-something production crew who took the perilous 100-mile overnight trek.
Curtis Bank.
Legendary in nature, the open ocean shallows, deep off the coast of San Diego, hosted a big wave drag session the participants had never seen before.
"I've been focused on Curtis Bank for maybe 20 years," says Garrett McNamara. "Friday was the best big day from dawn to dusk I have ever seen as far as conditions are concerned. It was 60 feet long and flawless all day."
The mega-adventure has taken place for an upcoming season of a hugely successful HBO documentary 100 feet waveand it took more planning—and more cash—than the average Mentawai boat trip.
NIne jet-skis, 41 crew including water safety and production, a helicopter, a 104-foot industrial vessel and millions of dollars to transport it all.
Although I didn't get the exact number, Bill Sharp—former Surfing magazine editor and the genius who organized the strike job—tells me that it costs about an eighth of a WSL Big Wave event. Nick Von Robb put the ball around $150,000 USD.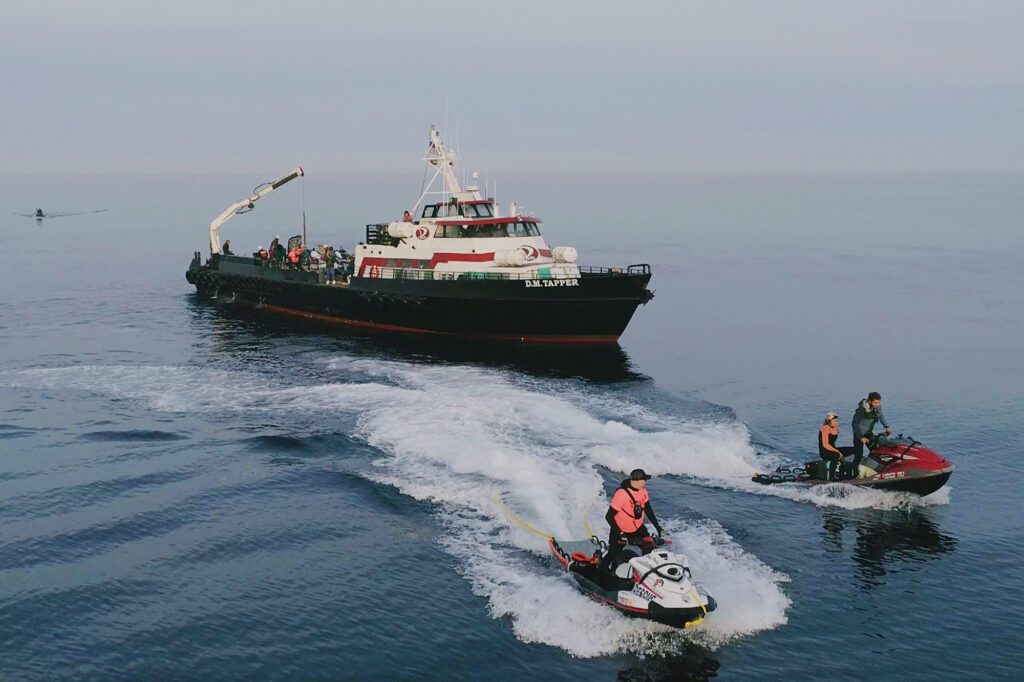 Even so, money is only part of the picture when it comes to making an entire documentary in the middle of the ocean. the rest? Really good planning and a lot of patience.
"I've been involved in trying to slay Curtis Bank's dragon for 30 years, when I was editor of Surfing Magazine," says Bell proudly. "We tried it in the '90s and dragged it in 2001 with Mike Parsons. I'm now involved with 100 feet waveAnd we had a very successful first season. Then, I felt like Nazare's story had been told fairly well, so I shifted my focus to Cortes Bank. She made a plan, and was set to go this past winter, but it ended up being the worst winter in California surfing history. (laughs) So, this trip ended up being over 18 months of planning."
And how did they know that this was it the swell?
"On Sunday, I saw this storm on the charts," Bell continues. "This one had all the ingredients, the perfect course, no-hit us, and a one-day window with no wind. We spent a lot of time figuring out the logistics stuff. We confirmed the boat, watched the swell, and consulted with Surfline's Kevin Wallis. You know, most predictions get weird." .they look crazy after 5 days and then something goes bad.we knew the swell was coming but it always comes down to local winds and that's the thing with Curtis.she's 100 miles out to sea so if it's a south wind there's 30k meters, you will die."
*Somewhere Softly Playing Neil Young's "Cortez The Killer"*
G-Mac emphasizes the danger of such a mission, "I went out there in the early 2000s and didn't get it done—we turned around halfway through. The weather was too bad our little boat couldn't haul the two jet skis."
Besides Jarrett, five other surfers were lucky enough to get called up for Friday's adventure: Nick Von Robb, Justin Dupont, Andrew Cotton, Will Scudden, and Lucas "Champo" Sianca.
"I was on my way to Eddie's, and it got canceled when we were in the middle of our trip," Nick Von Robb explains. "Bill had been planning this for some time, and the perfect swell turned out. I was lucky enough to partner with the right people to get out there. The logistics that go into putting a trip like this together are insane. We left the port of San Diego, drove all night, and got there in Morning. I felt like I was going on my first ever surfing trip."
Nick continues, "The boat trip was a total old-school quest, and Chombo was sleeping on the deck outside all night. We finally got there and it was magical—full glass. I've never seen waves so clean, so glassy for a whole day. It felt like Lake. It was a dream."
Well, a dream about blood in the water.
"At one point, a large shark appeared and bit a tuna in half right next to us," Garrett recalled. "The safety of the water was talking about the big fish—I didn't even want to go searching."
Nick corroborates the story, and adds, "Twenty minutes later, one of the jet skis was hit by a white shark, and one of the guys saw a white when we were sitting on a jet ski. I mean, you're in the middle of the ocean, you know there sure are some big fish out there. We were going back to Sled immediately after each wave (laughs).
So blasphemy aside, you can't blame them for these mutants exclusively.
"We haven't paddled at all. It's hard enough to position yourself on the tow, and then there's a 60-footer in the line-up. There's a north peak and a west peak, the safety crew's been there before. It's a big playing field but it's a fucking legit wave, that western bowl They were the best, they were going from top to bottom."
Everyone was in agreement that Andrew Cotton's barrel—featured as the main photo in this story—was the wave of the day.
The session will be shown in the next episode at the end of 100 feet wave, But for now, Bell and the crew are just focused on ensuring the session gets as many viewers as possible.
"It's weird, all the other projects I've done have been for a brand and we've always wanted to control the rights," Bill muses. "We just did this because we wanted to do it, it was like a group of surfers and shooters and water safety. Our goal now is for all of them to benefit, and you watch their waves and shots."
He simply ended our conversation.
"I'm not going to lie, it was great."
Really cool, Mr. Sharp.